El Verbo irregular "to cut" en Inglés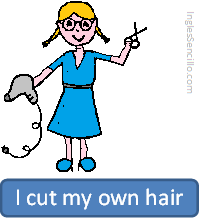 Significado de 'cut' en inglés
El verbo "to cut" significa:
"cortar"
When Sandra dropped the glass, small shards cut her hand
Cuando a Sandra se le cayó el vaso, los pequeños fragmentos cortaron su mano
Her words cut right through to my heart.
Sus palabras me hicieron daño
The axe cut right through the dry wood
El hacha atravesó el madero
Gramática de "to cut"
"cut" es un verbo irregular.
| Verbo | Pasado | Participio | Significado |
| --- | --- | --- | --- |
| cut | cut | cut | cortar |
Conjugación de "to cut"
| Conjugación | Significado |
| --- | --- |
| I cut | yo corto |
| you cut | tú cortas |
| he cuts | él corta |
| we cut | nosotros cortamos |
| you cut | vosotros cortáis |
| they cut | ellos cortan |
I cut a few slices of cherry pie for my dinner guests
Corto unos pocos trozos de tarta de cerezas para mis invitados a la cena
| Conjugación | Significado |
| --- | --- |
| I am cutting | yo estoy cortando |
| you are cutting | tú estás cortando |
| he is cutting | él está cortando |
| we are cutting | nosotros estamos cortando |
| you are cutting | vosotros estáis cortando |
| they are cutting | ellos están cortando |
The tractor is cutting a path through the wheat field
El tractor está cortando una senda a través del campo de trigo
| Conjugación | Significado |
| --- | --- |
| I have cut | yo he cortado |
| you have cut | tú has cortado |
| he has cut | él ha cortado |
| we have cut | nosotros hemos cortado |
| you have cut | vosotros habéis cortado |
| they have cut | ellos han cortado |
Conjugación
Significado
I cut
yo corté
yo cortaba
you cut
tú cortaste
tú cortabas
he cut
él cortó
él cortaba
we cut
nosotros cortamos
nosotros cortábamos
you cut
vosotros cortasteis
vosotros cortabais
they cut
ellos cortaron
ellos cortaban
Last week I cut my own hair
La semana pasada me corté mi propio pelo
| Conjugación | Significado |
| --- | --- |
| I will cut | yo cortaré |
| you will cut | tú cortarás |
| he will cut | él cortará |
| we will cut | tú cortarás |
| you will cut | vosotros cortaréis |
| they will cut | ellos cortarán |
This new process will cut our production time in half
Este nuevo proceso reducirá el tiempo de producción a la mitad
| Persona | Conjugación | Significado |
| --- | --- | --- |
| 2ª persona del singular | cut | corta |
| 2ª persona del plural | cut | cortad |
| Fórmula de cortesía | cut | corten |
Cut the ribbon when I give the signal
Corta la cinta cuando yo te de la señal
2 Comentarios
---
excellent !!thanks full